By Charles Mombo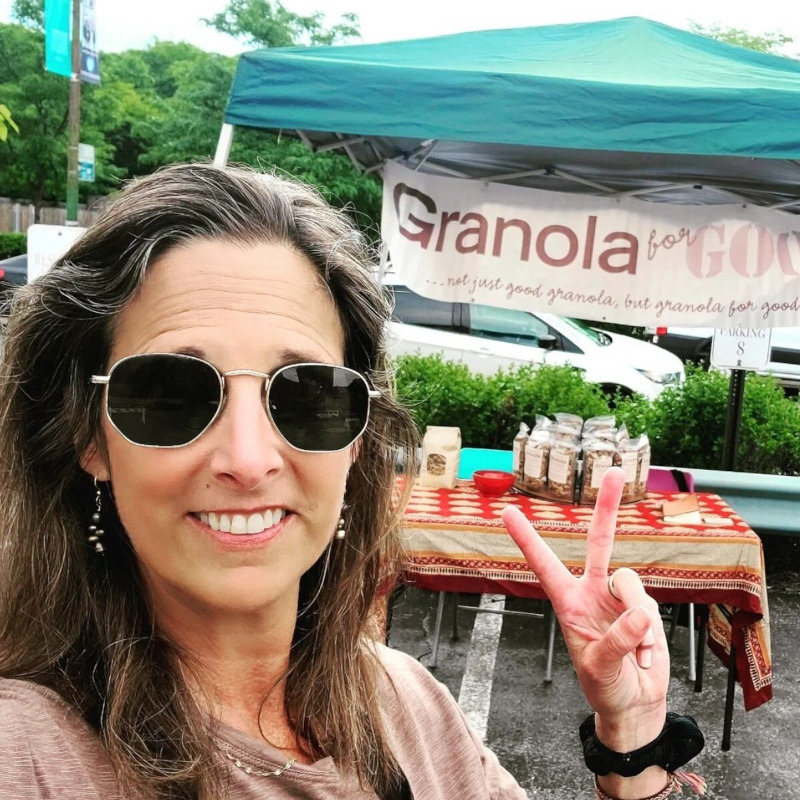 Meet Mary Stonor Saunders. Mary grew up on Manhattan's upper west side (back in THE day!), but spent three months a year in a town with only 800 people. Her mom was from an old American family and held a master's degree, whereas her father, born in Palestine (his Armenian parents fled the genocide) and never completed his high school diploma. Mary went to her neighborhood public school and one of the wealthiest schools in America. All of this to say, Mary likes to think of herself as someone who is comfortable in a lot of different worlds and believe it informs everything about her.
"As Tony, who contended with homelessness (he used to frequent 53rd Street, sometimes with his son) used to tell me, I'm what they call "double breasted:" I can travel on both sides of the tracks. I took it as a high compliment," Mary said.
After graduating from Kenyon College with a B.A. in religious studies and psychology, she moved to London and then Washington, DC before coming to Chicago to attend University of Chicago's School of Social Service Administration (now Crown) where she received a Master's in health administration and policy. As with her origins, her professional life cuts across many sectors and fields. She has done everything from cleaning summer cabin rentals (yuck) and tending bar, to managing The Washington Post's events marketing department and working in the press room, to directing the University of Chicago's Graduate Program in Health Administration and Policy. She has done strategy and development work in early childhood education, health care, youth development, gun violence, and food manufacturing.
"I think this experience makes me able to see alignments that others may miss, and believe the greatest insights often come from boots and roots on the ground, something I think many professions overlook," Mary said.
Mary is passionate about lot of issues, and said, if she wins the Lotto, she will spend her time volunteering – a thought she has held for a long time. One of the things she cares about the most is ending gun violence and have long been an advocate for gun reform and bringing more resources and support to communities contending with the highest levels of gun violence. She spent the last five years as the inaugural executive director of Strides for Peace. In addition to producing the annual Race Against Gun Violence, she had the honor of working closely with community organizations and grassroots leaders who she believes are one of Chicago's greatest, and most under-appreciated, assets.
"My main hobbies are drinking local beer (I am a member of Chicago's oldest brewing club!), country walks and occasionally writing songs. I am a proud mama of Olivia, 28, and Gabriel, 18 (both Hyde Park raised!) and happy partner of Alexander, who I tied the knot with 22 years ago," Mary added.

What is Granola for Good (G4G) and why was it started?
Times are tough right now. Every day we see the headlines and hear the news of all the problems we face. And just like you need good food for your body, you need good news for your soul, to provide the fuel needed to get involved with making things better.
Granola for Good's (G4G) mission is to make the best granola while raising awareness about and funds for our community and non-profit partners, bringing together uncommonly good granola with uncommonly good people.
Born from a passion for food and a desire to make a difference in our community, Granola for Good didn't start with a business plan. It started with a good recipe, good friends, and the good people in the neighborhood who wanted to help.
First launched in 2009, G4G's first community partner was Inspiration Corporation, where G4G was made in their Living Room Café (64th and Stony) for just ten pounds of granola a month.
Now we've relaunched, offering the same delicious granola with a renewed focus on all the good being done in Chicago. A percentage of proceeds benefit community organizations bringing out the best in our city and will be featured on G4G's website, social media, and packaging. Our first kitchen home will be at BUILD's new Community and Youth Hub in Austin, where we hope to work with youth interested in entrepreneurship and healthy eating.
Stay tuned for launch video coming out soon!
Where do you expect to see G4G in the next 5 years?
In the next five years, G4G will continue to have an on the ground Chicago presence, while expanding to national distribution (and more flavors!), working in other cities to partner with and help tell the stories of those working to make the world a better place. In addition to being available online and in retail stores, G4G will engage the corporate social responsibility sector as a vehicle to learn more about community organizations, how to get involved and hopefully become volunteers or donors. Finally, as G4G grows, we will also be able to grow our donations to our nonprofit partners.
What's one thing that our readers would be surprised to learn about you?
Oh boy – probably a lot! How about, I've slept in Earth Kitt's house? Or went to Cook County jail with members of Wu-Tang!??
Who are the most influential individuals in your life?
Definitely my mother and father, both of whom passed a long time ago, but whose voices are deeply embedded in me as to what it means to be a good person. Other than that, the most influential individuals in my life are those who serve and love on their communities — people who walk the walk and put their love and hope into action, who step up to challenges that may be too big for them to fix but do what they can to make difference.
What do you like about Hyde Park?
Unlike Hyde Park, where I grew up, you can't step outside and encounter people who aren't like you. I wish Chicago wasn't so segregated. I love that Hyde Park has all sorts of diversity as the fabric of its community. Plus, I love how it has a small town atmosphere and neighborhood feel, although it's in a big city. Finally, the POINT!!! I don't know if I could survive without the Point and the lake – best lakefront in Chicago!
{Promontory Point, known locally as The Point, is a man-made peninsula extending into Lake Michigan.}
Website:
GranolaForGood.com
Instagram:
@granolaforgood
Follow us on Instagram:
@ChicagoHydePark
@TheRealHydePark