By Charles Mombo
Meet Sarah Kuenyefu. Sarah is a lifelong entrepreneur, designer, and CEO of Sarah Kuenyefu Collection. She was raised in Ghana and is also a wife and mother of three children.
How long has Sarah Kuenyefu Boutique been around? And what inspired you to open it?
I first opened Sarah Kuenyefu Boutique in Hyde Park under the name of House of Africa in 1999. The grand opening of our flagship location at 4412 S. Cottage Grove, Bronzeville is on Sunday, June 5th. Located next door to the Bronzeville Winery, our new location will present an exceptional shopping experience for customers through our new selections and collaborative work with new designers and artists. I was inspired to open the location to introduce new styles and build community through art, fashion, and furniture.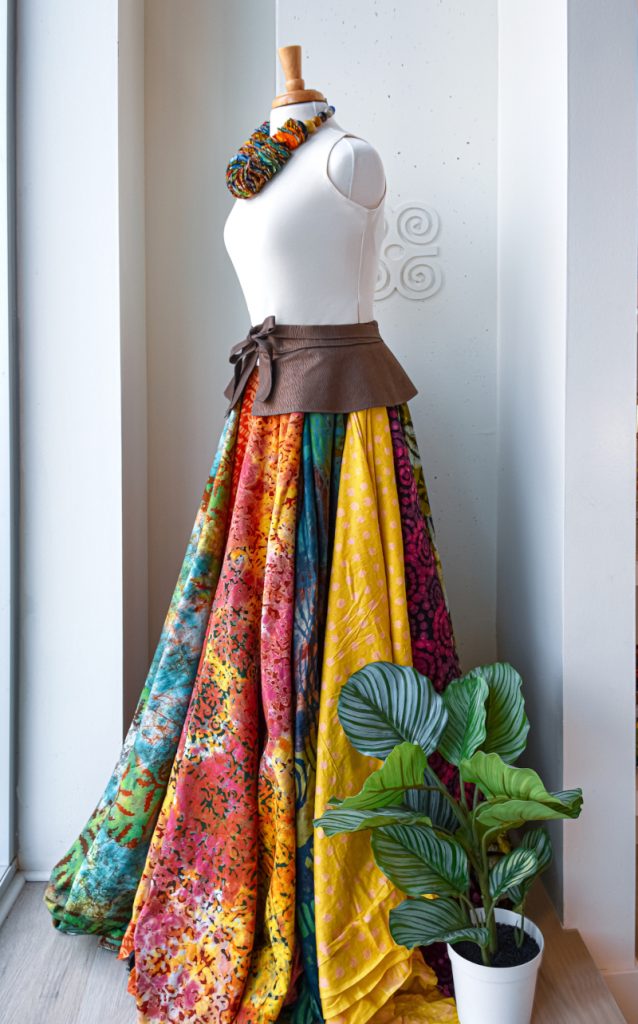 What is your favorite thing about your job? Most rewarding? Most challenging?
I love the independence that creative expression brings. I find this through meeting amazing clients and building relationships that have been rewarding. It is gratifying to know that your community values and appreciates your skill. There is always the challenge of adapting to changes – as seen through the past two years of a pandemic and shifting the space of my business.
What advice would you give to someone wanting to open their own boutique?
One has to be prepared to work long hours and most importantly provide exceptional service to keep a loyal clientele. Integrity in business is priority and professionalism is key to sustaining and growing your business. It is not for the faint of heart.
What's one thing that our readers would be surprised to learn about you?
I am honestly a very reserved person – but I do have a good time when around good company. I love to spend time in my studio and listen to music and audiobooks as I work.
Who are the most influential individuals in your life?
My husband and children are very influential in my life. I am collaborating with my son Makafui who runs Fourtunehouse Art Center – which is a creative company that will be opening an art center and retail space serving the mission of empowering artists and their community. I partnered with him to present his vision for the neighborhood through a physical location next door to the boutique.
How is your boutique faring since the negative impact of COVID?
We closed our Woodlawn location in August 2020 due to the pandemic but are gearing to reopen in Bronzeville. Our grand opening is on June 5th, 2022, 2pm – 6pm.
What do you like about Hyde Park?
Hyde Park was my first introduction to the south side of Chicago. It is an eclectic melting pot that has a great vibe and sense of community. I particularly love the restaurants, shopping, and culturally rich atmosphere.
Location/Telephone:
Sarah Kuenyefu Collection
4412 S. Cottage Grove
Chicago, IL 60653
Telephone: (773) 324-6858
Grand Opening:
Sunday, June 5th, 2pm – 6pm.
Hours of Operation:
Sunday – Monday: Closed
Tuesday: Appointment Only
Wednesday – Saturday: 12pm – 7pm
Website:
SarahKuenyefu.com
Instagram:
@sarahkuenyefucollection
Follow us on Instagram:
@ChicagoHydePark
@TheRealHydePark
@SurgeSynergy