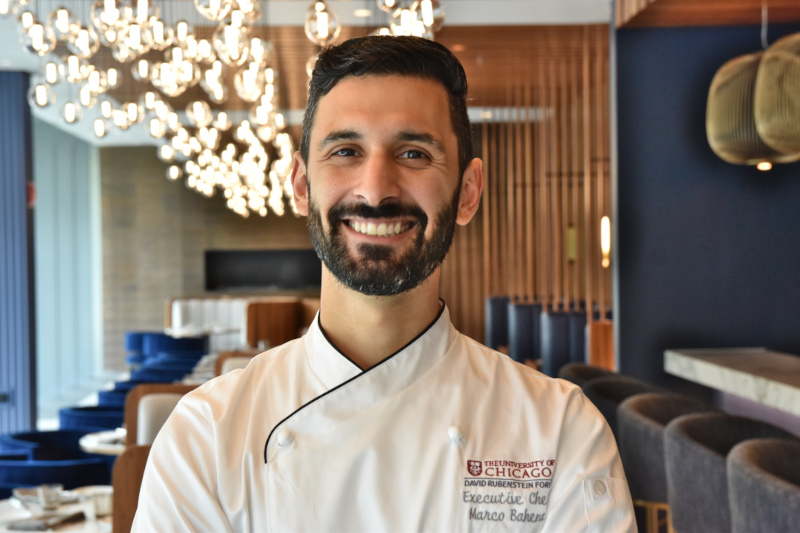 By Charles Mombo
Meet Marco Bahena. Marco is the executive chef at BARDAVID Restaurant. A Chicago native, Marco is a graduate of the School of Culinary Arts at Chicago's Kendall College. He previously worked at Martín Berasategui, a 3-Michelin star restaurant in the Basque region of Northern Spain.
According to Marco, he's "Just a guy trying to roast some meat, grow some vegetables and learn everything there is to know about food along the way."
What is the responsibility of an Executive Chef?
An executive chef's responsibilities involve wearing a lot of different hats. I need to be a bit of a farmer to best understand the produce that's coming in, a mechanic to be able to maintain our high-end equipment, an accountant to make sure the beautiful work we do stays profitable, a teacher to train and develop my team, and it doesn't hurt to be a part time Instagram influencer to stay in the loop in social media marketing to promote our business.
How did you get started cooking, and why did you decide to make a career out of it?
The truth of it is that my intentions really started out with just trying to learn to cook to impress a girl. Turns out that I was actually pretty good at it, enjoyed working with my hands and was fortunate to have some great mentors along the way.
If you must recommend only three items on BARDAVID menu, what will they be?
Basque chicken croquettes, roasted salmon and Blueberry pavlova. All three have simple humble stories and are absolutely worth a visit.
What advice would you give to a cook starting out on the line?
Keep your head down focused and incredibly curious on the food, always be cleaning and build legacy, not currency.
Do you have a guilty pleasure; something you eat when nobody is looking?
Popeyes is 100% no contest the best fried chicken.
What do you like about Hyde Park?
There is a lot of incredibly beautiful parks and architecture that are really new and inspiring to me. I'm an avid bike rider and have enjoyed hitting some of the roads and paths through here for a fresh look at the city.
Instagram:
Follow our synergistic sites on Instagram: